News - 21st September 2023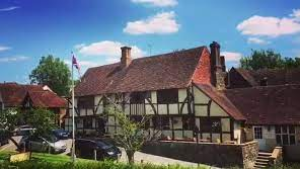 Dear Parents and Carers
Despite the autumnal weather, children have had a great week connecting with their local history, with village walks, trips to St Mary's Church, The Crown, Pied Piper Theatre, Ramster Garden and Jack Salway's magnificent garden as they have celebrated Heritage Week.
Each class has had the privilege of working with local artist, John Worth. On Friday afternoon parents are welcome to join us from 2.45pm to see what the children have been working on. John will also be showcasing some of his work. The pupil's completed work will be on display in the coming weeks for all to see during Parents Evenings in October.
We are so grateful to our community, for volunteering and offering our pupils these wonderful opportunities and experiences. Thank you also to Mrs Ryder who has spent so much time organising and co-ordinating this amazing event.
Last week Helen Bendall joined us for our New Beginnings Service, as we celebrated a new beginning of term, new academic year groups and for some the beginning of their St Mary's journey. It was lovely to welcome our new reception class parents into school last week and I am looking forward to our collaborative work, celebrating and supporting the children's learning and St Mary's events as they embark on their school journey. Reception Class have settled superbly into school routines, already awarded with tidy line winners last week, setting a great example to their older peers!
Peer Mediators have received training for their new roles; they will hold an assembly for the school on Monday to inform pupils of how they will support each day on the playground.
I am looking forward to my first Pupil Leadership meeting next week. Our Pupil Leaders have many plans for how they can support and make a difference in the school, in the local community and through our link with Starfish Malawi.
Next Tuesday is our Harvest Service at the Church, all classes are now collecting for the Harvest boxes, please donate if you are able.
Have a great weekend.
With very best wishes
Mrs Buckley
Headteacher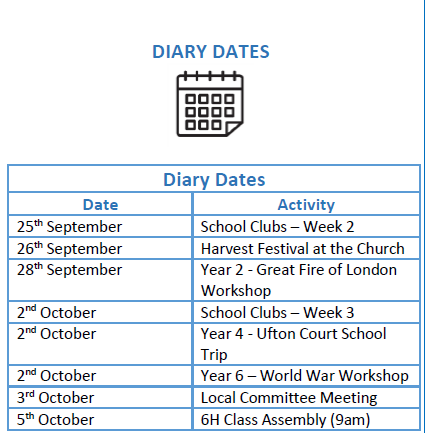 STARTING SCHOOL:
Secondary School
You need to apply online for a secondary school place by 31st October 2023.
If you live in Surrey, you can find out all you need to know about school admissions and apply online at surreycc.gov.uk/admissions or you can call on 0300 200 1004
Starting School – Reception:
If your child was born between 1 September 2019 and 31 August 2020 you will need to apply for a school place. You can apply between 31 October 2023 and 15 January 2024.
If you live in Surrey, you can find out all you need to know about school admissions and apply online at surreycc.gov.uk/admissions or you can call on 0300 200 1004
HARVEST FESTIVAL
Key Stage 1 will be celebrating Harvest Festival at Church on 26th September. All classes will have a box available from Friday 22nd September where you will be able to bring in donations. Please can we ask for non-perishable items only. A typical food parcel includes items such as:
Cereal
Soup
Pasta
Rice
Tinned tomatoes/ pasta sauce
Lentils, beans and pulses
Tinned meat
Tinned vegetables
Tea/coffee
Tinned fruit
Biscuits
UHT milk
Fruit juice
Donations will be sent to Haslemere food banks.
KEY STAGE 2:
GODALMING AND DISTRICT SPORTS
ASSOCIATION CROSS COUNTY EVENT
This event will be held on Saturday 18th November at 10am at Glebelands School in Cranleigh. Any child in Key Stage Two can attend.

Mrs Wright will be on site from 9:30am. You are required to stay with your children. You may stay as long as you like, or go home after your race.
The approximate timings for each race this year are:
Year 4 girls - 10.00am
Year 4 boys - 10.10am
Year 3 girls - 10.20am
Year 3 boys - 10.30am
Year 5 girls - 10.40am
Year 5 boys - 10.50am
Year 6 girls - 11.00am
Year 6 boys - 11.10am
Followed by prize giving and team trophies.
The race distances are as follows (approximates only):
Years 3 & 4 - 700m Years 5 & 6 - 1300m

WEEK COMMENCING 11TH SEPTEMBER 2023
RECEPTION – 97.41%
Year 1 – 92.9%
Year 2 – 97.5%
Year 3 – 97.5%
Year 4 – 96.2%
Year 5 – 96.8%
Year 6H – 97.1%
Year 6N – 96.4%
ST. MARY'S SCHOOL VISION
Wisdom
Wisdom is a core Christian value in our school because we believe through wisdom good choices are made, that it encourages us to learn from our mistakes and encourages us to live our lives wisely for the benefit of all. "And you will know the truth, and the truth will set you free.'' John 8:32
Hope
Hope is a core Christian value in our school because hope gives us energy and supports us through difficult times. "Be happy because of the hope you have. Be patient when you have troubles. Pray all the time.'' Romans 12:12 To act with hope is to aspire to greater things, to promote positivity and courageous advocacy.
Respect
Respect is a core Christian value in our school because we believe that all life is precious within the image of God and deserves to be valued. "Do to others as you would have them do unto you." Luke 6:31 Our Christian value of respect means living up to the image of God with our school, our community and ourselves.
Community
Community is a core Christian value in our school because we know that together we are stronger and can achieve more. "Live together in peace with each other. Don't be proud, but be willing to be friends with people who are not important to others. Don't think of yourself as smarter than everyone else.'' Romans 12:16
Everyone in our school, local and global community are needed and valued.