News - 16th March 2023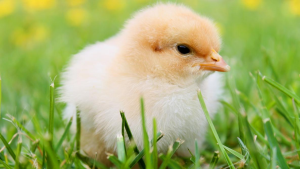 Dear Parents/Carers
It has been another exciting week at school, with ten chirpy chicks, pharaohs, spacemen, ship captains and farmers enhancing our super school curriculum.
On Monday Year 4 took part in an Egyptian workshop in school, they travelled back in time to Ancient Egypt, where they learnt about pharaohs, handled artefacts, measured in cubits, translated hieroglyphics and mummified a pharaoh. This was a wonderful experience to enhance their curriculum learning. Thank you to Mrs Evans for organising this event.
On Wednesday the Year 5's visited Winchester Planetarium and had a fantastic day out, including Dexter the bear, who had the opportunity to model a space suit! Year 5C will share their experience and photos in their class assembly next week.
Today, Year 1 performed their class assembly for the parents. It was a confident performance; they learnt all their lines, sang beautifully and put a huge smile on all our faces. We will all be singing the season song all day! Thank you to Mrs Bennett and the Year 1 team for all your hard work.
Also in school today, Year 3 took part in a Titanic workshop. The children arrived to school dressed in the most spectacular costumes and this morning have handled artefacts from the Godalming museum, learnt about Morse code and Jack Phillips. In the afternoon, they had a fabulous tea party with music and dancing. Thank you to Mrs Ryder and Mrs Gregory for organising and to Mrs Balchin for the wonderful scones and cakes. Very lucky children!
Next week, Year 3 are looking forward to their trip to Sea City Museum, whilst the whole school are excited to attend the school disco. I am currently in training!
A couple of reminders, Cathy Penfold from Starfish Malawi is visiting us on Monday 27th March, and hoping to take with her new reusable water bottles and any school resources we are able to send to our sister school in Kapira. 'We are looking to teach children about the importance of water and in particular clean water. We would like to spend fundraising on providing clean water to all our link schools via water stations with drinking water and handwashing facilities with soap.' Please do support if you are able.
Finally, it has been brought to my attention that some children in upper key stage two are playing computer games unsuitable for primary school-aged children whilst some are using snapchat to send offensive messages to other children causing huge upset. Please can I remind you to check your children's devices to see what apps/games they are using and if they are using these devices safely and appropriately? Primary school children should not be left unsupervised with devices for long periods of time. Thank you for your support with this.
Have a lovely weekend and slainte for tomorrow!
Mrs Buckley
Headteacher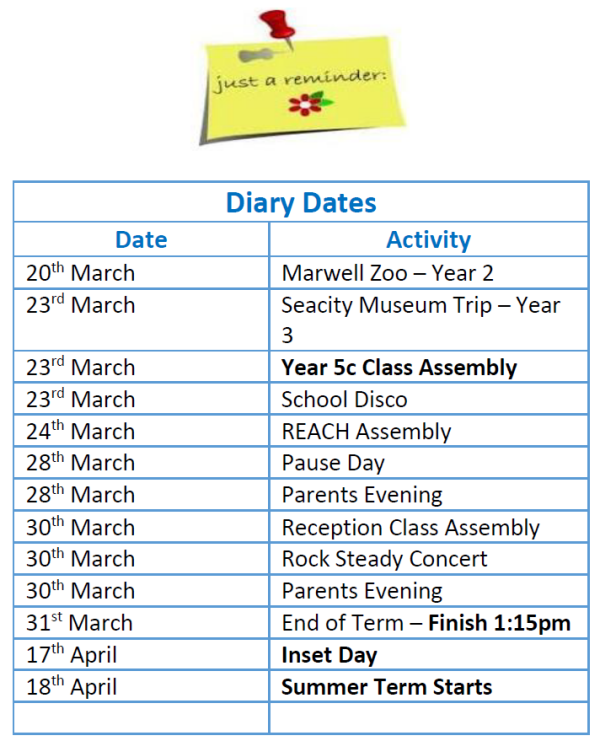 BOOK FAIR NEWS
The recent book fair was a great success. The school has raised over £1,000 to spend on books for the school. Each class will be able to choose a selection of books for their reading areas and others for the library area.
It is wonderful to have parental support in recognising the importance of reading for pleasure and instilling a lifelong love of literature for the children to always enjoy.
Thank you for all your support.
GIRLS FOOTBALL TOURNAMENT
On Tuesday 7th March, 8 fantastic girls represented St Marys at our District's first ever 'Girls only Football Tournament'. Our goal keeper - Emily-Rose made lots of great saves, supported by strong defence from Bella, Darcy, Iris and Harriet. Grace, Amelia and Imogen were strong and very effective in midfield. Flo and Lottie worked hard up front with some great long runs with the ball. Lottie scored a hat trick! Their hard work paid off and St Marys made it to the final - to become joint winners of the tournament. Well done girls! We are very proud - you are great role models for sport in our school.
Thank you to Mrs Balchin and Mr Roper for supporting the girls and giving up their time to accompany them.
Also a big thank you to Mr Spong for donating Rugby Kit to the school.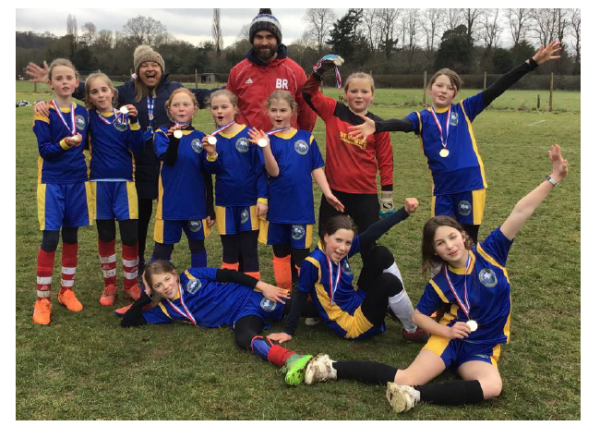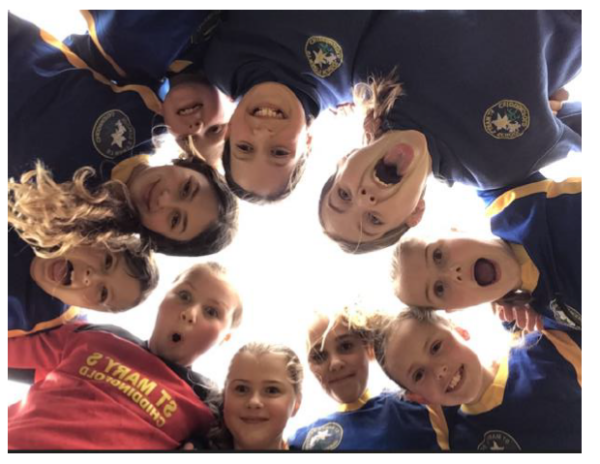 THE SPECSAVERS SURREY YOUTH GAMES
The Specsavers Surrey Youth Games are back for 2023, there are three activities available for children in primary schools. Activity sessions are FREE for children and these sessions will begin after the Easter break, week commencing 17th April 2023.
Getting children and young people active can-do wonders for their wellbeing, improving not just their physical health but also boosting their confidence and social skills. We'd like your help in sharing the benefits of moving more by encouraging parents to register them - for an event that's been part of the Surrey calendar for well over 20 years.
The Specsavers Surrey Youth Games allows 7 - 11 year-olds to have fun with friends and learn new skills – all for FREE. We offer activity sessions at locations across Waverley in three sports and activities, targeted at different age groups. FREE, local activity sessions start after Easter and runs for 6-8 weeks, followed by a family-friendly celebration day on Saturday 17th June at which participants get the chance to show off their new skills.
The programme targets young people who are most in need and who don't have access to the sort of sporting opportunities that others take for granted. No specialist kit is required for this opportunity, which is aimed squarely at beginners and those who are normally inactive or avoid sport. The focus of the activity sessions and the final Games Day is on joining in, having a go, and having fun.
RECYCLING CLOTHING BANK
The clothing bank is now on School Grounds. This will help raise funds for the school as well as reducing waste to landfill. We are able to accept the following: Clothes, shoes, bed linen, accessories (such as belts, hats, gloves, scarves, handbags) as well as soft toys so please keep any unwanted items for then. Unfortunately we can't take the following: Duvets or cushions, off cuts, used underwear or socks, carpet or curtains.

RED NOSE DAY:
This Friday on the 17th March, St Mary's will be celebrating Red Nose Day along with the rest of the UK! We will be commemorating this day in a similar way to how we celebrated Children In Need, there will be some fun activities for the children to get involved with during the day such as a best joke competition, pin the nose on Mr Bump and how many sweets in a jar with the closest guess getting to keep them!
We won't be requesting any donations but we will have a link directly to Comic Relief for you, should you wish too. Days like this are typically mufti however having just had a dress up day we ask that you only wear red accessories (Socks, Bows, Hair Clips, Badges, Wristbands etc.) or Red Nose Day official merchandise please.
https://donation.comicrelief.com/cart/1YsYOwm2pHZgBUhWr8ZL13

WEEK COMMENCING 6TH MARCH 2023
Reception – 86.67%
Year 1 – 95%
Year 2 – 96.6%
Year 3 – 98.7%
Year 4 – 92.7%
Year 5P – 95.5%
Year 5C – 96.1%
Year 6 - 92.2%
St Mary's School Vision
Reflecting virtues of Mary, our vision is for everyone to be inspired to blossom and grow, fulfilling their potential in all aspects of life. By exploring the Christian values of wisdom , hope, respect and community, our pupils understand the importance of being respectful, resilient social advocates, building a better world.