News - 6th October 2022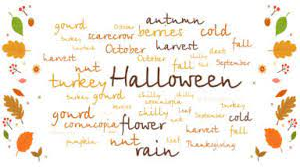 Dear Parents/Carers
Thank you for your patience and understanding with the closure of the Petworth Road gate whilst the fence work was undertaken.   The entrance is now re-open and fence work completed.  We are very pleased with the results, enhancing the front of the school, whilst providing adequate safety and security.
In school, children have been celebrating and learning about Harvest.  Our Key Stage One pupils led a beautiful service in the church last week with confident performances and beautiful singing.  The school collected a vast amount of items for the Godalming Foodbank and the end of service collection amounted to nearly £80. We have received a letter of thanks and gratitude from the Foodbank, so I extend that thanks to you. It will make a huge difference to many.
We are very mindful of the financial challenges and worries that many families are potentially facing this autumn and winter and as such are endeavouring to keep costs of our enrichment activities to a minimum. We are very fortunate to have such a committed and passionate PTA who share our ethos of ensuring equitable opportunities for all. They have helped secure places for all 220 pupils to attend Wintershall Estate Nativity this December. This will be our first whole school outing and we are so excited and grateful that every child is able to access this wonderful opportunity.
This afternoon, I am looking forward to welcoming the CEO of The Good Shepherd Trust, Paul Kennedy to discuss our long-term vision and an opportunity for him to see how we live out our vision and values that underpin all that we do here at St Marys. 
Next week, we shall welcome our new prospective parents on Tuesday and Thursday morning. If you know anyone looking for school places in September 2023, please tell them to contact the school office.
Have a wonderful weekend.
Best wishes
Mrs Buckley
Headteacher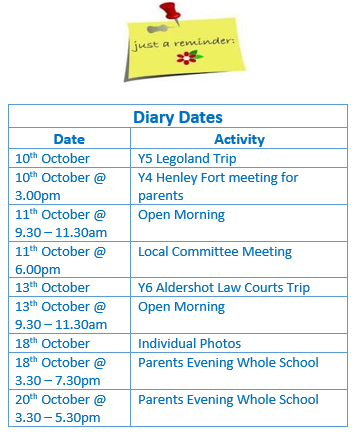 LOST PROPERTY
We have a number of brand new unnamed jumpers in lost property. Please come and have a look.
A polite reminder to label all clothes, water bottles and lunch boxes as this will reduce the risk of losing these items.
SCHOOL PHOTOS
Yellow, our school photographers have agreed to bring back Sibling photos this year which is great news.
PARENTS EVENINGS
Please find attached instructions on how to login to School Cloud. Bookings will open at 6.00pm on Monday 10th October. You will need to login using parent first name and surname and then student date of birth.
CHRISTMAS CARDS   
Your child will be given a proof card of their Christmas card design tomorrow. Please can you check them and return to the school by Monday 17th October.
The PTA are also helping us with many other plans and opportunities for the whole school, including supporting us with our Christmas Market in December. Further information will be released soon.
Today, we welcomed visitors from Cats Protection who talked to the classes about a range of different topics including how to keep a cat healthy and happy, how cats communicate and cat body language. They promoted responsible pet ownership, respect for animals, and positive animal welfare messages.

Following Government guidelines, schools are no longer allowed to authorise requests for children to be taken out of school for a holiday during term time unless there are exceptional circumstances. If you take your child out of school, you may face a penalty notice.
Week commencing 26th SEPTEMBER 2022
Reception – 96.5%       
Year 1 – 88.6%
Year 2 – 95.1%                  
Year 3 – 98%
Year 4 – 95.7%  
Year 5P – 96.4%
Year 5C – 95.4%               
Year 6 – 92.7%
CHRISTIAN VALUES
Dear Lord,
Thank you for all the opportunities we have
For the staff who help us to blossom and grow.
Please help us to always try our best and
be ready, be safe and be respectful.
Amen.