News - 6th July 2023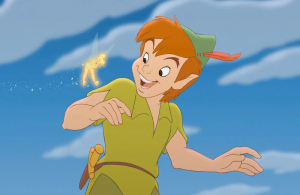 Dear Parents/Carers
It is hard to believe that this is the penultimate bulletin of the academic year! Time does fly, especially when you are busy and having fun!
Last week, Year 6 children had an opportunity to visit their new schools, whilst in school; pupils moved up to their new classes and met their new teachers. It was a very successful day, we were very proud of how independent and brave the children were from the very beginning of the day and we were pleased to see them still smiling by home time.
Yesterday, a group of KS2 pupils represented St Marys in the Confederation Sports Tournament. Overall, the school came 3rd, with Years 4 and 6 coming 3rd in their groups, Year 3 coming 2nd and Year 5 coming 1st. Well done to all the pupils involved and thank you to Mrs Wright and Mr Hanson for accompanying the pupils.
This week the whole school is busily preparing for the Production of Peter Pan. The rehearsals went well, despite the need to rain watch; however, it is set to be a spectacular two evenings with a backdrop of glorious sunshine! (We really must be righteous!) We look forward to welcoming you all from 5pm this evening.
Next week, we are looking forward to welcoming back some former pupils for work experience.
Other forthcoming events include; a DT taster session at Rodborough for some Year 5s, District Sports, Malawian Day on Wednesday (collection for Starfish Malawi and mufti of any combination of red, green and black), Leavers Service for Year 6, Rock Steady concert and REACH assembly. We are still very busy!
Have a wonderful weekend.
Mrs Buckley
Headteacher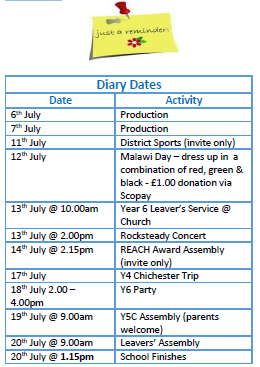 MALAWI DAY
Next Wednesday, St Marys will be celebrating its second annual Malawi Day! To further help promote our link with our sister school in Kapira, we will be raising money to help support them. To commemorate the day we will have face paint on the playground, classes will be making their own footballs with plastic bags and children will be asked to wear mufti in the colours of green, red and black to represent their flag colours. Any donation will be greatly received and thank you to school council who will be helping in the running of the day.
SCHOOL FUND
Thank you for your contributions so far. If you are able to contribute £25 per family for this term then please do so via Scopay; however, anything you can contribute would be gratefully received.


WEEK COMMENCING 26TH JUNE 2023
Reception – 92.5%
Year 1 – 95.3%
Year 2 – 94.3%
Year 3 – 97.6%
Year 4 – 97.4%
Year 5P – 95%
Year 5C – 97.3%
Year 6 – 81.4%
St. Mary's School Vision
Reflecting virtues of Mary, our vision is for everyone to be inspired to blossom and grow, fulfilling their potential in all aspects of life. By exploring the Christian values of wisdom, hope, respect and community, our pupils understand the importance of being respectful, resilient social advocates, building a better world.