News - 30th March 2023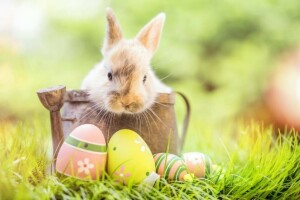 Dear Parents/Carers
I cannot quite believe it is the end of the spring term. It has been a very busy and productive one!. The children have made significant progress in their learning and have enjoyed many experiences to enhance their curriculum offer.
The parents have been treated to many outstanding performances with class assemblies, highlighting the children's learning and the fantastic creative talents we are so lucky to have at St Marys.
Last week, Year 5C put on a super show for the school and parents in their class assembly about their topic, Space, based on the book Hidden Figures. It was an emotive and mature production. Well done to all the children and Miss Clark and her team for all the hard work.
Last Friday, we celebrated the achievements and talents of our REACH winners. It was wonderful to hear all of the positive comments and see how proud the pupils and parents were. Congratulations to Abi, Flo, Maisie, Lola, Sophia, Rufus, Florence and Cami.
On Tuesday this week, all classes spent the day off curriculum for Pause Day. It was an opportunity for the children to visit the church; to stop, think and reflect about the Easter Story, family, friends, hopes and dreams. The children participated in various creative activities. Thank you to Rev Rachel, Mrs Porter and Mrs Ryder for organising and to the volunteers for supporting.
On Wednesday, Year 6 were due to spend the day at Guildford museum in the Victorian classroom. Sadly, they were let down at the last minute but Miss Hampshire did not allow that to deter her from ensuring the pupils experienced what it was like to be educated in Victorian times. She quickly transformed her classroom into a Victorian room and Year 6 dressed up and spent the day as Victorian school children and had a great/strict day. Thank you Miss Hampshire, your efforts were greatly appreciated.
This morning, it was the turn of Reception Class to perform their assembly for the parents. They were so very brave and put on a wonderful show, singing beautifully. Well done and thank you to Mrs Lawrence and the EYFS team.
After, KS2 attended the beautiful St Mary's Church for our Easter Service, superbly led by Year 5P. Thank you to Rev Rachel for hosting and to Helen Bendall for leading the singing. It was a very moving service, very maturely delivered. Well done 5P and thank you to Mrs Porter for the script and superb direction.
Tomorrow is the final day of the spring term; school finishes at 1.15pm, please take home all belongings and check the lost property box for missing clothing items.
Summer term commences on Tuesday 18th April, with many more adventures and creative learning opportunities planned. Until then, have a wonderful break.

Happy Easter!
Mrs Buckley
Headteacher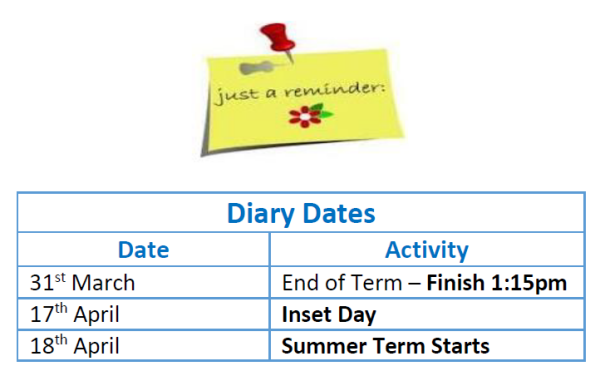 PARKING
Can we please ask that you do not park on School Lane or the main Petworth Road for school drop offs/pick up. There have been a few times when it has caused an obstruction to the main road and we have had numerous complaints. This is extremely dangerous. Thank you for your cooperation.
RECYCLING CLOTHES BANK
Just to remind you we now have our recycling bank just outside of the school office so if you get a chance over Easter to have a sort out here is what it will take: Clothes, shoes, bed linen, accessories (such as belts, hats, gloves, scarves, handbags) as well as soft toys so please keep any unwanted items for then. Unfortunately we can't take the following: Duvets or cushions, off cuts, used underwear or socks, carpet or curtains.
BREAKFAST CLUB
Please ensure you book your child onto breakfast club the day/evening before. Numbers have increased over the past few weeks so it is important we have the right ratio of adults to children.
BOYS FOOTBALL TOURNAMENT
On Tuesday 21st March, Year 5 and Year 3 teams went to a football tournament at Tillingbourne School. For Year 3 it was their first tournament and whilst the outcome was disappointing, the boys enjoyed it and have learnt lots to work on next time. They played 5 games, with one win. Pontus was our goal scorer! Year 5 played six 14 minute games and came second in their group, seeing them through to the semi-final. This was a tough match and went through to sudden death penalties, but we won! The final was against Grayswood which unfortunately they lost 2-0. The boys played well, scored some great goals, made some great saves and never gave up! Well done Pontus, Arthur, Archie, Daniel, Theo, Oscar, Reuben, Noah, James, Jack, Ethan, Charlie B, Zak, Miles, Charlie S, James, Max, Charlie K, Lorenzo and Josh.
INTERHOUSE SPORTS TOURNAMENT
On Tuesday we held our third Interhouse Sports Tournament. This half term, it was netball! Mixed teams from all classes in KS2 formed a 7 strong team to play other houses. The team was mostly made up of girls, with a maximum of 2 boys. Amber played Ruby, followed by Emerald and Sapphire. Our Year 6 House Captains led the tournament, they advertised it, planned it and even managed the matches. All teams played excellently, building on the skills we have learnt in our PE sessions this half term. The final winners were Amber House! Well done!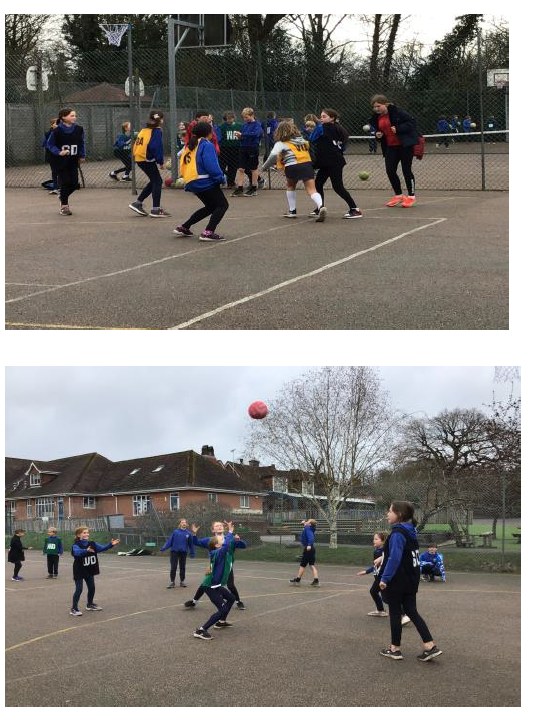 BEE WORKSHOP
We have been working with Surrey artist Diana Burch to create a unique piece of 3D art sculpture of bee flights. The children got to observe and sketch bee flight lines which will then be turned into a collaborative multi-coloured sculpture. The idea behind this is to raise awareness of climate change and the UK's biodiversity. This is part of a UK-wide Wild Escape art celebration. The aim is to explore  wildlife in works of art, artefacts and natural environments with museums and galleries. It also coincides with a new David Attenborough BBC series. Sculptures will be exhibited at Haslemere Museum's public Earth Day event on Saturday 22nd April. It will then be returned to school for us to display.

WEEK COMMENCING 20th MARCH 2023
Reception – 90.3%
Year 1 – 92.6%
Year 2 – 98%
Year 3 – 92.6%
Year 4 – 96.8%
Year 5P – 95.2%
Year 5C – 96.3%
Year 6 - 96.3%
Wisdom
Wisdom is a core Christian value in our school because
we believe through wisdom good choices are made,
that it encourages us to learn from our mistakes and
encourages us to live our lives wisely for the benefit of
all.

"And you will know the truth, and the truth will set you
free.'' John 8:32

Hope
Hope is a core Christian value in our school because
hope gives us energy and supports us through difficult
times.

"Be happy because of the hope you have. Be patient
when you have troubles. Pray all the time.'' Romans
12:12

To act with hope is to aspire to greater things, to
promote positivity and courageous advocacy.

Respect
Respect is a core Christian value in our school because
we believe that all life is precious within the image of
God and deserves to be valued.
"Do to others as you would have them do unto
you." Luke 6:31

Our Christian value of respect means living up to the
image of God with our school, our community and
ourselves.

Community
Community is a core Christian value in our school
because we know that together we are stronger and
can achieve more.

"Live together in peace with each other. Don't be proud,
but be willing to be friends with people who are not
important to others. Don't think of yourself as smarter
than everyone else.'' Romans 12:16

Everyone in our school, local and global community are
needed and valued.