News - 27th January 2022
27 Jan 22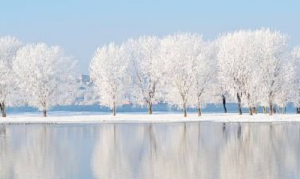 Dear Parents/Carers,
Pupils have been very busy over the last fortnight, developing their leadership skills by consulting, planning and leading on school initiatives. Peer Mediators led assembly last week to remind the school about their important role in helping pupils resolve low-level disputes on the playground. This week the Eco Leaders informed the school about terra-cycle and the importance of recycling, and asked for volunteers for their litter-picking group. The School Council Reps have been meeting regularly to discuss their short, and long term plans for raising money for our sister school in Malawi. Our Well-being leaders have also met to discuss plans for Children's Mental Health Week, commencing on the 7th February.
Watch out for more information coming soon.
We are very proud of our pupil leadership groups in school; how they are able to use their growing capabilities, confidence and pupil voice to motivate, influence and direct others so that they work together to achieve the goals of the whole school community.
With very few covid cases now in school, it was great to be able to welcome parents to watch Year 4K Class Assembly about Ancient Egypt. The children performed confidently and really impressed our visitors. Well done to Miss Kightley and the 4K team for all the hard work.
Staff and pupils are looking forward to Mr Hanson leading our Celebration Assembly on Friday, I have no doubt we are all in for a treat.
Have a wonderful weekend.
Best wishes
Mrs Buckley
Headteacher
Diary Dates
| | |
| --- | --- |
| 1st February  |  Selected Y5 Football Tournament @ Tillingbourne |
| 2nd February  | 4E Swimming |
| 7th – 11th February | Wellbeing Week |
| 9th February  | 4E Swimming |
| 10th February  | Y3 Titanic Day |
| 14th – 18th February    | HALF TERM |
| 21st – 25th February | Book Week |
| 22nd – 28th February | Book Fair |
| 23rd February | 4E Swimming |
| 24th February @ 6.00 – 6.45pm | Bedtime Stories |
| 25th February | Book Character Dress Up Day |
COVID
The self-isolation advice for people with coronavirus (COVID-19) has changed. It is now possible to end self-isolation after 5 full days if you have 2 negative LFD tests taken on consecutive days. The first LFD test should not be taken before the fifth day after your symptoms started (or the day your test was taken if you did not have symptoms). The self-isolation period remains 10 full days for those without negative results from 2 LFD tests taken a day apart.
Home learning will be provided for those isolating ONLY. If a child is off ill for any other reason they will not be sent work from the teacher. Teachers may not be able to put home learning on if they are notified of a positive case in the morning as they will be in class teaching but will upload as soon as they are able to do so.
YEAR 5
Year 5 have had the most wonderful start to the term because we are LOVING our new topic… Space!
So far, we have learnt all about our planets. Did you know that Pluto is no longer big enough to be classed as a planet? Poor Pluto is only a dwarf planet now.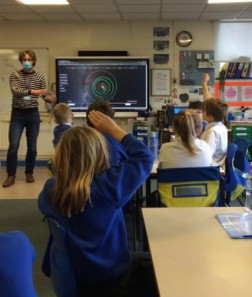 We were lucky to have a visit from Mr Graham Johnson (Jasper's Uncle) who was home for Christmas from Los Angeles. Graham started his career building satellites, but now works for SpaceX on the controlling panel. The children had the chance to learn all about upcoming events happening in Space and all about his job. Year 5 certainly tested Mr Johnson on his space knowledge. I think we would be still asking questions now if home time hadn't arrived. His next job will be sending cargo (mainly food and drink) to the astronauts in the International Space Station. How exciting!

In music, we have thoroughly enjoyed looking at the composer, Gustav Holst. Our end goal is to compose and perform our own songs created about different planets. We have also ALREADY started to plan the songs for our class assembly!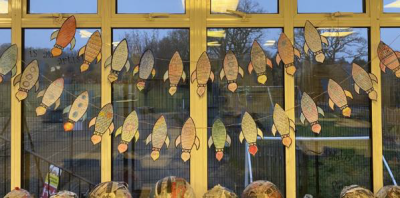 We still have so much to cover in our topic – but we are HOOKED! We are going to learn about the moon, famous astronauts and some of the space technologies in existence. We also have an exciting trip to the planetarium planned in March!
On Thursday 20th January, we were invited to the Mathemagics show at King Edward's School. The children really enjoyed David showing them all sorts of magic tricks linking to number – many of the tricks were practised in the classroom that afternoon! Year 5 represented St Mary's wonderfully and many of them volunteered to go on stage to answer mathematical questions! Miss Clark and Mrs Fozard could not have been prouder.
'BOOK WEEK' IS COMING!
Thursday 3rd March marks annual 'World Book Day', and we want everyone to spread the love of books and reading for pleasure, both at school and at home. We will be holding a book week at St Mary's in the week prior to this, which coincides with the Travelling Book Fair at school.
Keep an eye out in your child's book bag for their £1 book token which can either be used to get a 'World Book Day Book' for free, or for £1 off a book or audiobook costing £2.99 or more at your local bookseller. These vouchers can also be used towards books at the Book Fair.
 
KEY DATES:
Monday 21st February: 'Bring your Book to Life' poster competition entries returned to school.
Tuesday 22nd February: Winners of competition announced and presented with vouchers.
Tuesday 22nd – Monday 28th February: Book Fair open in school hall.
Thursday 24th February: Bedtime Stories 6:00 – 6:45pm (Book Fair open in school hall for parents)
Friday 25th February: Book Character Dress-Up Day
BOOK FAIR
The Book Fair will be returning to St Mary's for a week on Tuesday 22nd February, when St Mary's will be celebrating,sharing and developing our children's love of reading throughout the whole week. Every book purchased from the fair raises money to buy new books for the school library area, and we are hoping to match the success of previous years.
All classes will have the opportunity to visit the book fair throughout the week, and your child's class teacher will notify you via Seesaw of the day their class will be visiting the fair so that you are able to send them in with money if they wish to buy a book or stationary items. If you would prefer not to send them in with cash, they can complete a wish list at the fair and you can make payment online. The Book Fair will also be open between 6:00 and 6:45pm on the evening of Bedtime Stories (Thursday 24th February) for parents to browse the shelves and make any purchases. Parents will be able to make payments online at the event by scanning a QR code. Look out for further information in the next bulletin to give you some indication of the types of books that will be available, and for information on pre-ordering books before the fair. 
BEDTIME STORIES
On Thursday 24th February, we will be hosting a 'Bedtime Stories' event. Children are invited to return to school in their pyjamas ready for a bedtime story and a hot chocolate between 6:00 and 6:45pm. The Book Fair will be open during this time for parents to browse and purchase some new reading books! Sign-up sheets for the event will be on display in the Mullard Building from Monday 7th February.
BOOK CHARACTER DRESS UP DAY
On Friday 25th February, children are invited to come to school dressed as their favourite book character for our 'Book Character Dress Up Day'.
'BRING YOUR BOOK TO LIFE' POSTER COMPETITION
Prior to the week, we will be running a competition to allow children the opportunity to win vouchers to spend at the Book Fair. We would like to invite the children to produce a poster of their favourite book using a range of different media. Entries for previous competitions have blown us away with the creativity, so we are hoping to use the posters to create an eye-catching display in our library space and inspire others to read the books represented. These should be returned to school on Monday 21st February, and the winners will be announced and presented with their vouchers in assembly on Tuesday 22nd February.
READING AT HOME
To continue to support your child's love of reading at home, we recommend signing up to  www.oxfordowl.co.uk The website is packed with expert advice, top tips and activity ideas so you can help your child with reading and maths. It is free to register, and once signed up you will have access to top tips for helping at home; activities and games to support your child's developing maths and English skills as well as a free library of over 200 eBooks for children aged 3-11.
SCHOOL COUNCIL NEWS
Think COP 26 is so last year? Think again!
Huge thanks to our School Council Representatives who have pledged to continue with our mission 'Chiddingfold Opposes Pollution.' You may recall our advent window message at Christmas 'Our Planet is for life, not just for Christmas,' with this in mind we are now proud to launch our recycling initiative. In assembly this week, all pupils were informed that we have teamed up with Boots Opticians in Godalming in order to recycle contact lense packaging. If you wear contact lenses, please help us! Your child is encouraged to drop off packaging in the collection box situated by the front office. We would also like to thank Mr and Mrs Tippett for their support on this.
All our children are also encouraged to drop off empty crisp packets at a collection point in the dining room. We hope to start a litter picking committee in the next few weeks too. We will of course continue to listen to our pupil voice via School Council Reps and develop even more ideas to help with making our environment a place we can be proud of.
And finally…
Coming soon…..Our Wellbeing Leaders are working behind the scenes to bring a 'Wellbeing Wednesday' to St Mary's the week beginning 7th February watch this space….
Following Government guidelines, schools are no longer allowed to authorise requests for children to be taken out of school for a holiday during term time unless there are exceptional circumstances. If you take your child out of school, you may face a penalty notice.
WEEK COMMENCING 17TH JANUARY 2022
Reception – 94%
Year 1 – 90.3%
Year 2 – 98.3%
Year 3 – 92.2%
Year 4K – 94.5%
Year 4E – 94.6%
Year 5 – 85.6%
Year 6 – 95.2%
ST. MARY'S
SCHOOL VISION
Reflecting the virtues of Jesus' Mother, Mary, our vision is for every member of our school community to be inspired to blossom and grow in order to fulfil their potential, academically, socially and spiritually in all aspects of learning. By exploring the underpinning core values of wisdom, hope, respect and community, our pupils understand how to live out this vision and become kind, respectful and resilient social advocates, playing their part in building a better world.