News - 26th January 2023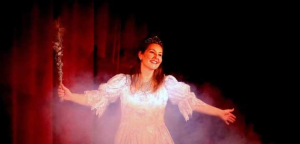 Dear Parents/Carers
Well, what a spectacular two weeks they were!
We are still buzzing here at St Mary's with happiness and pride at the astonishing creativity and talent of our pupils, parents and our brilliant PTA.
The Panto, Cinderella was an amazing success. As all audience attendees will attest, it was simply spectacular. I couldn't quite believe what I was witnessing in our village, starring our parents and members of the community.
Brilliant, brilliant, brilliant! You should all be so very proud of yourselves. Thank you Lisa Olsworth-Peter and Karen Gilligham for your creative genius. How lucky are we to have you in our community?
We did not have time to come down from the high and excitement of the weekend; when on Monday morning, the Year 5's headed off to the O2 arena to perform with over one hundred and twenty schools in Young Voices.
Once again, our expectations were exceeded with this outstanding opportunity. Despite the long day, the children (and staff) sang and danced with such enthusiasm and joy; we all had such a brilliant day. Thank you to Mr Godwin who organised and prepared us for the day. We will definitely be going again!
Today, there was further entertainment from Year 4, who performed their class assembly all about Ancient Egypt for their parents. The children delivered their lines confidently and sang beautifully. The costumes and props were superb. Well done to Mrs Evans and Mr Hanson!
It certainly seems as a school and community, we should be seeking a quality mark in the arts! Chiddingfold really does have amazing talent!
Other subjects have been taught during this very creative time, promise!
Thank you to all of you that have responded to the parent questionnaire. We are very grateful for your honesty and we will take on board all of your feedback. We are already addressing some of the suggestions that are the quick fixes. For instance, I will ask teachers to put medium-term plans and timetables on see-saw at the beginning of each term.
All curriculum information can be found on the school website but feedback has highlighted that parents do not always use the website to access this type of information.
I am pleased to report, that overall the majority of the feedback was very positive; we are of course aware that there will always be areas to be improved, hence the need for a School Development Plan. We are working on our developmental areas in a strategic and timely manner. We continue to value all of your support. Thank you.
Have a wonderful weekend.
Best wishes
Mrs Buckley
Headteacher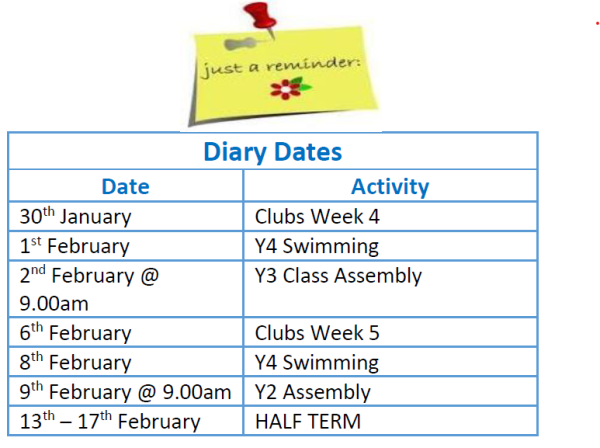 STAFF NEWS
Sadly, Mrs Owen shall be leaving the admin team/school office on Friday 10th February. She will be greatly missed; we are so very grateful for everything she did for the school and we wish her every success in her next ventures.
Fortunately, we have been able to appoint a new Office Administrator, Mrs Katherine Wilson, who will join the St Mary's Team on Monday 20th February.
I am sure you will want to join us in thanking Mrs Owen for all her help and support whilst welcoming Mrs Wilson to our school community.
STRIKE ACTION
I am sure you will be aware from recent media reports that the largest teacher union (NEU) have declared strike action, which will take place on Wednesday 1st February 2023, Thursday 2nd March 2023, Wednesday 15th March and Thursday 16th March 2023.
While the planned action is as a result of a national dispute between the unions and the government, and not St Mary's School, it is important that we respond accordingly. As such, the senior leadership team has been working closely with staff in order to plan for the strike days. At this stage, we understand that none of our colleagues will be taking industrial action Wednesday 1st February. Therefore school will remain open for all classes on this day.
We will inform you of any plans for future strike action in March and the implications of this for school, if any.
If you have any questions or concerns about any of the above, please speak to Mrs Buckley in the first instance. As ever, thank you for your continued support.
SHROVE TUESDAY - 21st February 2023
The kitchen will be serving pancakes for pudding instead of the normal menu.
Following Government guidelines, schools are no longer allowed to authorise requests for children to be taken out of school for a holiday during term time unless there are exceptional circumstances. If you take your child out of school, you may face a penalty notice.

WEEK COMMENCING 16TH JANUARY 2023
Reception – 99.6%
Year 1 – 95.7%
Year 2 – 95.3%
Year 3 – 95.6%
Year 4 – 98.7%
Year 5P – 97.2%
Year 5C – 91.8%
Year 6 – 98.6%
CHRISTIAN VALUES

Dear Lord,
Thank you for all the opportunities we have
In addition, for the staff who help us to blossom and grow.
Please help us to always try our best and be ready, be respectful and be safe.
Amen.