News - 22nd September 2022

Dear Parents/Carers
It has been a reflective couple of weeks at St Marys as we commemorate and celebrate the life and reign of Queen Elizabeth II. The pupils have attended assemblies, offering prayers and condolences whilst celebrating and showing gratitude to a life of great service to the country and Commonwealth.
Last week Rev Rachel joined us for our New Beginnings Service, as we celebrated a new beginning of term, new academic year groups and for some the beginning of their St Mary's journey. It was lovely to welcome our new reception class parents into school last week and I am looking forward to our collaborative work, celebrating and supporting their children's learning and St Mary's events as they embark on their school journey. Reception class have settled into school routines with aplomb and have already impressed our pupil leaders with their impeccable lining up, showing their capability of leading by example!
All classes are enjoying learning about their new topics, which include World War I and II, The Great Fire of London, Stone Age and Road Trip USA. All of these topics and the entire Curriculum offer are underpinned by the school values with enrichment activities and opportunities planned for all. This week Year 3 head off to Butser Farm to learn more about their topic, The Stone Age. They will then lead and perform an assembly for pupils and parents to enjoy and discover what they have learnt so far.
Peer Mediators have received training for their new roles; they will hold an assembly for the school on Monday to inform pupils of how they will support each day on the playground.
I am looking forward to my first Pupil Leadership meeting on Friday. They have many plans for how they can support and make a difference in the school, in the local community and globally. I feel very lucky to be working with such enthusiastic, respectful and socially aware young people who feel so passionately about making a difference to our world.
Have a lovely weekend
Best wishes
Mrs Buckley
Headteacher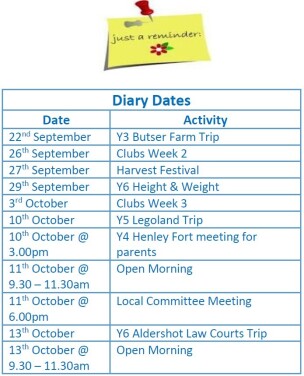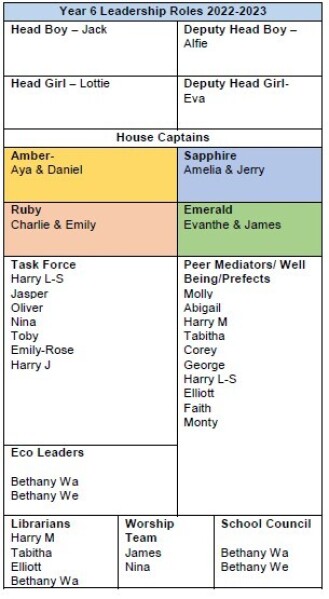 NEW FENCING AND GATES
The school will be having new fencing and gates installed along the Petworth Road and School Lane starting on Tuesday 27th September.
Therefore there will be no access through the pedestrian gate on the Petworth Road in the morning or the afternoon for 27th – 30th September. Please access through the recreation grounds.
Apologies in advance for any inconvenience caused.
SECONDARY SCHOOL
You need to apply online for a secondary school place by 31st October 2022.
If you live in Surrey, you can find out all you need to know about school admissions and apply online at surreycc.gov.uk/admissions or you can call on 0300 2001004
RECEPTION
If your child was born between 1 September 2018 and 31 August 2019 you will need to apply for a school place. You can apply between 31 October 2022 and 15 January 2023.
If you live in Surrey, you can find out all you need to know about school admissions and apply online at surreycc.gov.uk/admissions MEALS On Thursday 6th October we will be serving our Harvest Festival menu (no other choices will be available). To book please use the M code on Scopay.
HARVEST FESTIVAL
We will be celebrating Harvest Festival in school on 27th September. Each class will have a box available from Monday 26th September where you will be able to bring in donations. Please can we ask for non-perishable items only. A typical food parcel includes items such as:
Cereal
Soup
Pasta
Rice
Tinned tomatoes/ pasta sauce
Lentils, beans and pulses
Tinned meat
Tinned vegetables
Tea/coffee
Tinned fruit
Biscuits
UHT milk
Fruit juice
Donations will be sent to Haslemere food banks.
Following Government guidelines, schools are no longer allowed to authorise requests for children to be taken out of school for a holiday during term time unless there are exceptional circumstances. If you take your child out of school, you may face a penalty notice.

WEEK COMMENCING 12TH SEPTEMBER 2022
Reception – 100%
Year 1 – 96.3%
Year 2 – 94%
Year 3 – 98.7%
Year 4 – 98.4%
Year 5P – 91.2%
Year 5C – 97.6%
Year 6 – 94%
CHRISTIAN VALUES

Dear Lord,
Thank you for all the opportunities we have
For the staff who help us to blossom and grow.
Please help us to always try our best and be ready, be safe and be respectful.
Amen.