News - 2 March 2023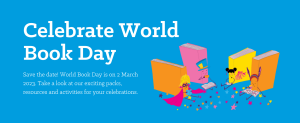 Dear Parents/Carers
The second half of the spring term has got off to a great start with our annual Book Week. The children enjoyed various book-related activities; watched a spectacular performance of The Railway Children by M and M Production and Year 6 took part in a workshop after the show. Children are looking forward to attending Bedtime Stories this evening and finishing the week dressed up for Book Character Day tomorrow. The book fair has been a roaring success so far, and will be open for parents to visit during bedtime stories tonight. Money raised allows us to buy new books for our school library. Thank you to Mrs Evans for co-ordinating and organising these exciting events and to the PTA for your help and support in providing refreshments to parents and children during Bedtime Stories.
Tomorrow, we shall be using this year's Dress up Day to raise some funds for the British Red Cross Earthquake Appeal. Pupils are eager to do their bit to show support for those who have lost their homes, schools and possessions. So if you are able, please do contribute. The money made in the cake sale after school will also go to this cause for this week only. Thanks again to the PTA for agreeing with this and the class reps for all your help.
Next week, it's Science Week. The week kicks off with a bang with a Circus themed Science Show for the school on Monday morning, followed by a science workshop on Monday and Tuesday.
Thank you to Miss Hampshire for organising the week's events.
Other events to look forward to include: Bikeability for Year 4, a girls' football tournament for some pupils in Year 5 and 6 and a trip to Pierrepont Farm for Year 1.
Have a wonderful weekend.
Mrs Buckley
Headteacher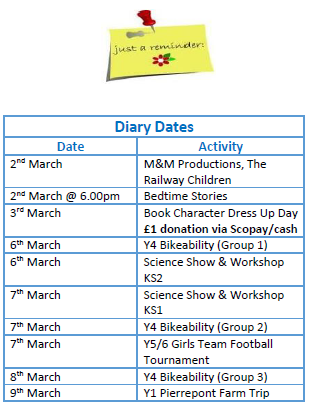 PE
Please could you send in a spare pair of trainers/shoes with your child on PE days so they can wear them indoors as this will help keep the school clean.
SCHOOL MEAL PRICE INCREASE
From April 2023 the price of a school meal will increase to £2.70 per day. Scopay will be updated accordingly.
RECYCLING CLOTHING BANK
We will be taking delivery of a clothing bank which will be kept on the school grounds. This will help raise funds for the school as well as reducing waste to landfill. From Monday 13th March we will be able to accept the following:
Clothes, shoes, bed linen, accessories (such as belts, hats, gloves, scarves, handbags) as well as soft toys so please keep any unwanted items for then.
Unfortunately we can't take the following: Duvets or cushions, off cuts, used underwear or socks, carpet or curtains.
Starfish Malawi – Message from Cathy Penfold our link worker
In Malawi we are looking to teach children about the importance of water and in particular clean water. We would like to spend fundraising on providing clean water to all our link schools via water stations with drinking water and handwashing facilities with soap.

A container will be leaving the UK on 12th May 2023 and loading will take place in the two weeks prior to that in Maidstone.  We thought it would be a good idea for pupils in the UK to donate a NEW reusable drink/water bottle that they have labelled, decorated or put their name on. These would then be given out at the school in Malawi.
 
I will be visiting St Mary's on Monday 27th March and can take with me any bottles or school stationary collected from the children to add to the container.

I will be travelling to Malawi on the 18th May and visiting Kapira School where a live link with the St Mary's School will be set up.

WEEK COMMENCING 20TH FEBRUARY 2023
Reception – 98.9%
Year 1 – 93.3%
Year 2 – 97.6%
Year 3 – 98.4%
Year 4 – 98.7%
Year 5P – 95.5%
Year 5C – 96.1%
Year 6 – 95.9%
St. Mary's School Vision
Reflecting virtues of Mary, our vision is for everyone to be inspired to blossom and grow, fulfilling their potential in all aspects of life. By exploring the Christian values of wisdom, hope, respect and community, our pupils understand the importance of being respectful, resilient social advocates, building a better world.