News - 1st December 2022
Dear Parents/Carers
It's beginning to look and sound a lot like Christmas. (We are now officially allowed to say the word!) Reception and Key Stage One are busy rehearsing for their Nativity performances next week, Key Stage Two for their Carol performance at the Fair and the whole school are busily creating market stall gifts for the school and Starfish Malawi stalls.
Prior to mentioning Christmas; last week, all children had the opportunity to plant bulbs in our flower beds with the kind donation and support from Mrs Saskia Buckley and her team of helpers. We are all looking forward to seeing our flowers blossom in spring and it will certainly brighten up the amphitheatre area. Thank you to all involved for such a wonderful opportunity.
Year 4 presented their class assembly to the school and parents about their topic on WW2. They did a spectacular job learning their lines and songs in a record short amount of time, after returning from their trip to Henley Fort. Well done Team Year 4, an emotive and impressive performance.
On Friday, Reception and Key Stage One joined the village nursery to watch the Pied Piper production of Burglar Bill. A great time was had by all.
Today, our beautiful, new Nativity Scene was unveiled, it is placed outside the school office. Please do pay it a visit when you pick up in the afternoon. It has certainly put a smile on all the children's faces and put us all in the Christmas mood. Thank you to Mrs Porter for organising.
On Saturday, our Christmas Fair is taking place outside on the grounds from 12pm to 2.30pm. Following on last year's success, it promises to be a wonderful event, with various stalls, Santa's Grotto, tombola, mulled wine and Carol singing. Access is through the Recreation Ground and School Lane gates from 12pm, the gates will remain open, so please be vigilant with all children at all times.
St Mary's children will sing at 1.30pm on the ampitheatre, it would be wonderful to see as many of them as possible, particularly the School Choir, who shall be opening our performance this year. There will once again be an opportunity for some audience participation at the end of the performance, so get those voices warmed up!
The PTA and staff look forward to seeing you on Saturday.
Have a wonderful weekend.
Mrs Buckley
Headteacher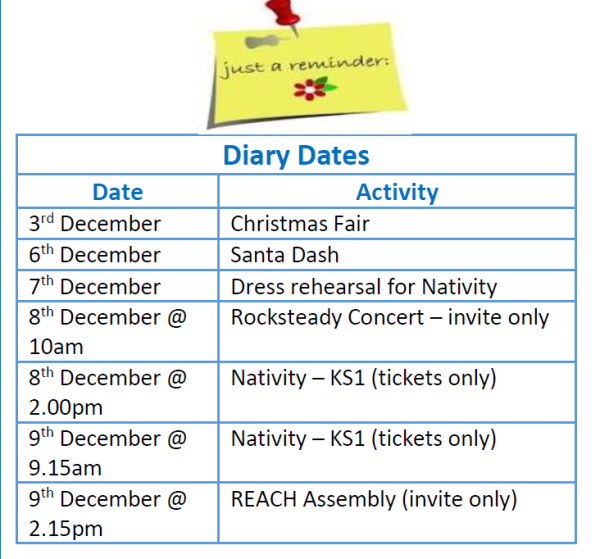 BREAK-TIME SNACKS
A reminder that ONLY fruit or vegetables may be eaten as a playtime snack. Children have been reminded that they should not be taking biscuits/crisps from their lunch boxes during first break. If a pupil does not have a piece of fruit, they can ask a staff member. Thank you for your support with this.
PE DAYS - KIT
Children may bring a change of joggers and trainers for PE days, the field is particularly muddy at the moment. We wish to minimise the amount of mud/dirt being carried from the sports field into the classrooms.
BOOK AMNESTY
Could everyone have a look at home for school library books? All school books will either be stamped or have a school sticker inside. Children should continue to borrow books to read at home, including the school holidays but remember to return all read books and place back on the shelves or hand to one of the Year 6 librarians. Thank you.
SCHOOL PHOTOS
All school photos have been sent home with your child so please check bags.
AMAZON WISH LIST
Thank you to everyone who has made purchases from our wish list, we are truly grateful. Please click on the link to see our lists https://amzn.eu/3jGVC9p .

Following Government guidelines, schools are no longer allowed to authorise requests for children to be taken out of school for a holiday during term time unless there are exceptional circumstances. If you take your child out of school, you may face a penalty notice.

WEEK COMMENCING 14TH NOVEMBER 2022
Reception – 96.7%
Year 1 – 93.3%
Year 2 – 88%
Year 3 – 92.7%
Year 4 – 96.8%
Year 5P – 88% Year 5C – 85.9%
Year 6 – 96.3%
Wisdom
Wisdom is a core Christian value in our school because we believe through wisdom good choices are made, that it encourages us to learn from our mistakes and encourages us to live our lives wisely for the benefit of all. "And you will know the truth, and the truth will set you free.'' John 8:32
Hope
Hope is a core Christian value in our school because hope gives us energy and supports us through difficult times. "Be happy because of the hope you have. Be patient when you have troubles. Pray all the time.'' Romans 12:12 To act with hope is to aspire to greater things, to promote positivity and courageous advocacy.
Respect
Respect is a core Christian value in our school because we believe that all life is precious within the image of God and deserves to be valued. "Do to others as you would have them do unto you." Luke 6:31
Our Christian value of respect means living up to the image of God with our school, our community and ourselves. Community Community is a core Christian value in our school because we know that together we are stronger and can achieve more. "Live together in peace with each other. Don't be proud, but be willing to be friends with people who are not important to others. Don't think of yourself as smarter than everyone else.'' Romans 12:16

Everyone in our school, local and global community are needed and valued.