News - 19th July 2023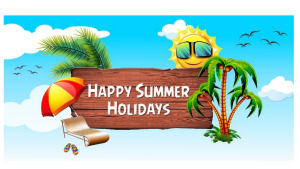 Dear Parents and Carers
What another incredible year we have had at St Marys, so much learning and so much fun! There is so much to be grateful for and much to be proud of.
The children have continued to impress us with excellent attainment and progress this year. We are extremely proud of them all. As well as their academic successes, there have been many achievements in sport and the creative arts. Also, are the numerous charity events planned and organised by the pupils, raising more money and awareness for our link school in Malawi.
The school's Curriculum offer enhanced by many extracurricular events/visitors provided us with many great memories and experiences.
Some of the year highlights include: mufti days, bonfire celebrations, nativity performance, trip to Wintershall Nativity, Christmas Fair, School Disco, chick hatchings,class assemblies, chef visits, Coronation Celebrations, Village Fete, school trips and residentials, sports day and finally our fantastic school production.
None of the above could happen without the hard work of my incredible team of colleagues. There are never enough superlatives to express my gratitude for their commitment to the school and to your children's progress, attainment, wellbeing and happiness. Thank you Team St Marys!
We are incredibly sad to be saying farewell to three of our colleagues; Miss Mitchell, who has worked with us for the academic year is off to complete her teacher training, good luck! Mrs Howell-Din is moving to Bohunt to work as a pupil counsellor, she has been with us for five years and we and many families owe her gratitude for all the help and support she has provided for many pupils over the years.
Finally, Mrs Tudor, who leaves us after six wonderful years teaching in Year 5 and most recently as the school's SENDCo. Mrs Tudor has had a huge impact on many, inspiring and motivating not only the pupils but her colleagues here and at the Trust. We are so immensely grateful for everything she has done for the pupils and very proud of all of her achievements. Mrs Tudor will be greatly missed!
To the PTA and all parents who have volunteered this year, thank you so much for your time and energy. We really are so grateful for the support and your efforts really do make such a huge difference.
My final thanks, go to you, our parents for allowing us the privilege of educating your wonderful children and for your continued support and encouragement of the school and staff. It means so much to us all.
Have a fabulous summer all, we look forward to welcoming you back on Monday 4th September.
With very best wishes

Mrs Buckley
Headteacher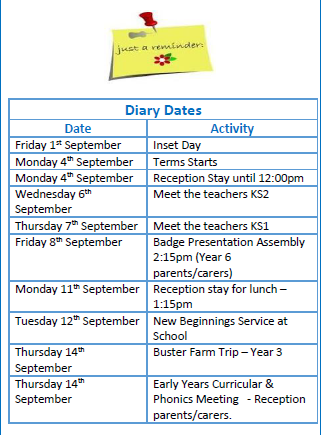 FAREWELL:
Today we say farewell to our wonderful Year 6 pupils as they move on to the next step on their journeys. Our job is accomplished, they are more than ready and we are so incredibly proud of each one of them. Good Luck Year 6! We also bid a farewell to three members of staff, Mrs Tudor, Miss Mitchell, and Mrs Howell-Dinn. We wish them well on their next ventures and thank them for their wonderful contributions to St Marys. Thank you ladies and good luck! You will be hugely missed.
CHIDDINGFOLD COMMUNITY ENGAGMENT EVENT:
Please see attached leaflet regarding the Chiddingfold Engagement Event on Saturday 22nd July. If you are unable to attend and want to tell input into these plans please email: combecommon@chiddingfold.com.
MEDICINES
Please can you collect any medicine, pills, epipens, etc from the school office this afternoon. Any over the counter medicines left will be thrown away. A reminder to also return any allergy/medical forms to the office ASAP ready for the start of next term. 
LOST PROPERTY
The bucket will be put outside in the playground so please check it. Anything not claimed by the end of term will be donated. If you can ensure all items of clothing, lunch boxes, water bottles, etc are named for September this will help alleviate many unclaimed items!
DISTRICT SPORTS:
On Tuesday 11th July, our best runners, throwers and jumpers in KS2, took part in the annual small schools District Sports event at Charterhouse. There was long jump, ball throws, hurdles, sprinting and long-distance races. This is a competitive event and full of nail biting finishes, especially the tense relays! Our athletics team were brilliant and we can 3rd overall. 
Well done kids!
MALWAI DAY:
On Wednesday 12th July, the children came dressed in red, green and black for Malawi day. Thank you for your contributions for this day. We raised £177. The children took part in various activities, and thoroughly enjoyed the face painting!

St. Mary's School Vision
Wisdom
Wisdom is a core Christian value in our school because we believe through wisdom good choices are made, that it encourages us to learn from our mistakes and encourages us to live our lives wisely for the benefit of all. "And you will know the truth, and the truth will set you free.'' John 8:32
Hope
Hope is a core Christian value in our school because hope gives us energy and supports us through difficult times. "Be happy because of the hope you have. Be patient when you have troubles. Pray all the time.'' Romans 12:12 To act with hope is to aspire to greater things, to promote positivity and courageous advocacy.
Respect
Respect is a core Christian value in our school because we believe that all life is precious within the image of God and deserves to be valued. "Do to others as you would have them do unto you." Luke 6:31 Our Christian value of respect means living up to the image of God with our school, our community and ourselves.
Community
Community is a core Christian value in our school because we know that together we are stronger and can achieve more. "Live together in peace with each other. Don't be proud, but be willing to be friends with people who are not important to others. Don't think of yourself as smarter than everyone else.'' Romans 12:16
Everyone in our school, local and global community are needed and valued.