News - 10th February 2022
10 Feb 22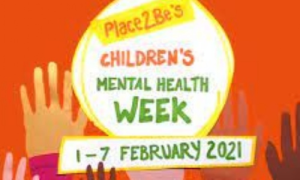 Dear Parents/Carers,
This week is Children's Mental Health week. In school, children have been learning about the importance of looking after their mental health as they would their physical health.
On Monday, we had a virtual assembly all about the week, and introduced this year's theme of 'Growing Together'. This encouraged the children to think about how they have grown, and how they can help others to grow.
Tuesday was Safer Internet Day. Pupils discussed how to keep safe on line and the necessity for age restrictions on certain games. Leaflets have been sent home via seesaw for your information and for you to talk to your children about concerns they may have.
Please take this opportunity to check privacy settings on home devices and find out what your children are accessing on line. We have children as young as six referencing games, such as Roblox, that they are playing, which have been rated 13+.
Wednesday was Wellbeing Day at St Mary's. The Year 6 wellbeing team led our whole school assembly, and talked about the difference between mental and physical health. They have been running a 'Mindfulness Club' one lunchtime a week, where children from a different class each week take part in well-being activities such as yoga, crafts and colouring. They also encouraged pupils to look out for them on the playground if they felt like they needed a dose of sunshine to cheer them up! Year 6 also had a motivational talk from Alice Manuel, a 'Thrive Programme' coach – more information about this can be found in the leaflet attached.
Hopefully, the children will want to discuss with you some of the topics addressed this week. It is imperative that we continue to work together to support our young people, giving them opportunities to talk but at the same time, providing them with coping mechanisms to build their resilience in dealing with the inevitable challenges presented to all of us at various points in life.
The week has drawn to a close with a Titanic Day being celebrated in Year 3 and our final Celebration Assembly of the half term will take place on Friday morning. Have a wonderful half term and I look forward to welcoming back all pupils on Monday 21st February for Book Week.

Best wishes
Mrs Buckley
Headteacher

Diary Dates 
| | |
| --- | --- |
| 14th – 18th February  | HALF TERM |
| 21st – 25th February | Book Week |
| 22nd – 28th February | Book Fair |
| 23rd February | 4E Swimming |
| 24th February @ 6.00 – 6.45pm | Bedtime Stories |
| 25th February  | Book Character Dress Up Day |
| 1st March | 4E Bikeability |
| 2nd March | 4K Bikeability |
| 3rd March | Y1 Pierrepont Farm Trip |
| 3rd March | Y3 Class Assembly (Y3 parents welcome) |
| 3rd March | Y4K Bikeability |
| 4th March  | Y4E Bikeability |
YEAR 4
What a busy start to the term we have had in Year 4! This term we have been learning all about ancient Egypt. We have learnt all about life in Ancient Egypt and how it compares to our lives now. We also studied the process of mummification (particularly enjoying the smashing up of brains and pulling it through the nose!) and even having a go at mummifying ourselves using a tomato! We have also looked closely at the life of Tutankhamun (the boy king) and have been particularly interested in the curse of the pharaoh tombs. Year 4K also showed off their Egyptian knowledge with a wonderful class assembly filled with facts, songs and dancing!
Much of our learning has centred around our Egyptian topic, such as writing our own Ancient Egyptian diaries, learning some Egyptian songs and creating our own Egyptian artwork. Next term we are looking forward to making our very own Egyptian death masks and learning more about hieroglyphics.
In science, we have begun our new topic on the digestive system learning the different organs in our body that help us digest food. This has led to some very interesting (and disgusting!) questions about how food is digested.
We have also enjoyed a half term of cricket coaching on a Friday and have loved practising our bowling and batting with the coach, Joe. We have learnt a special poem to help us with our cricket bowl and improved on our catching skills to get the batters out.
We are looking forward to next half term where we will be completing our bikeability course and visiting Haslemere museum!
BOOK WEEK
The first week back after half-term is Book Week at St Mary's. Please find information about the week's events, online payments and the book fair digital leaflet attached. Sign-up sheets for Bedtime Stories are now up in the Mullard Building (the corridor outside Year 5). We look forward to seeing your 'Bring your Book to Life' competition entries on Monday 21st February!
KEY DATES:
Monday 21st February: 'Bring your Book to Life' poster competition entries returned to school.
Tuesday 22nd February: Winners of competition announced and presented with vouchers.
Tuesday 22nd – Monday 28th February: Book Fair open in school hall.
Thursday 24th February: Bedtime Stories 6:00 – 6:45pm (Book Fair open in school hall for parents)
Friday 25th February: Book Character Dress-Up Day
Following Government guidelines, schools are no longer allowed to authorise requests for children to be taken out of school for a holiday during term time unless there are exceptional circumstances. If you take your child out of school, you may face a penalty notice.
WEEK COMMENCING 17TH JANUARY 2022
Reception – 88.1%
Year 1 – 97.7%
Year 2 – 91.3%
Year 3 – 95%
Year 4K – 87.9%
Year 4E – 62.8%
Year 5 – 90.7%
Year 6 – 83%

ST. MARY'S
SCHOOL VISION
Reflecting the virtues of Jesus' Mother, Mary, our vision is for every member of our school community to be inspired to blossom and grow in order to fulfil their potential, academically, socially and spiritually in all aspects of learning. By exploring the underpinning core values of wisdom, hope, respect and community, our pupils understand how to live out this vision and become kind, respectful and resilient social advocates, playing their part in building a better world.